Middle East
Click on a country on the map to see more details.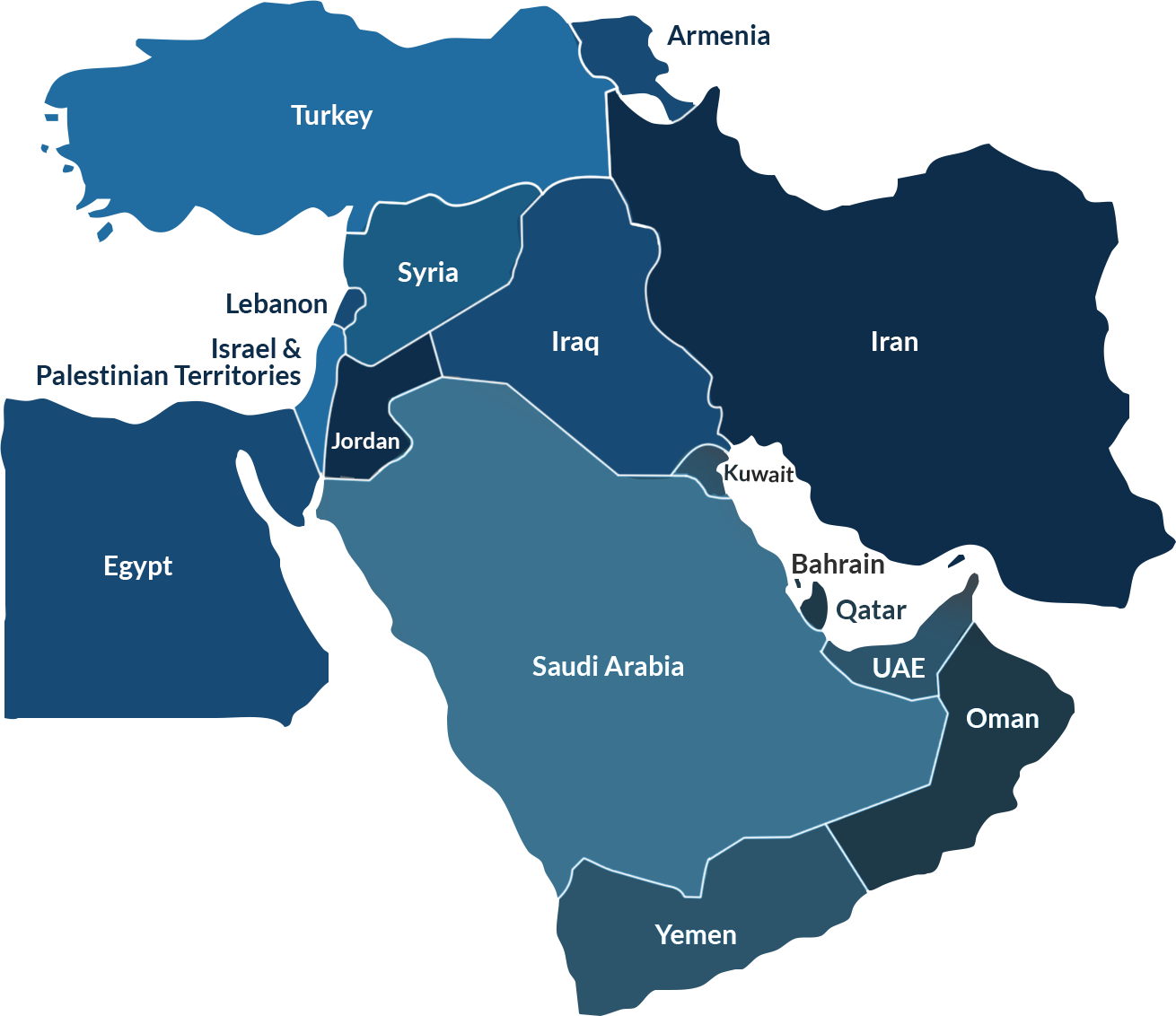 Iran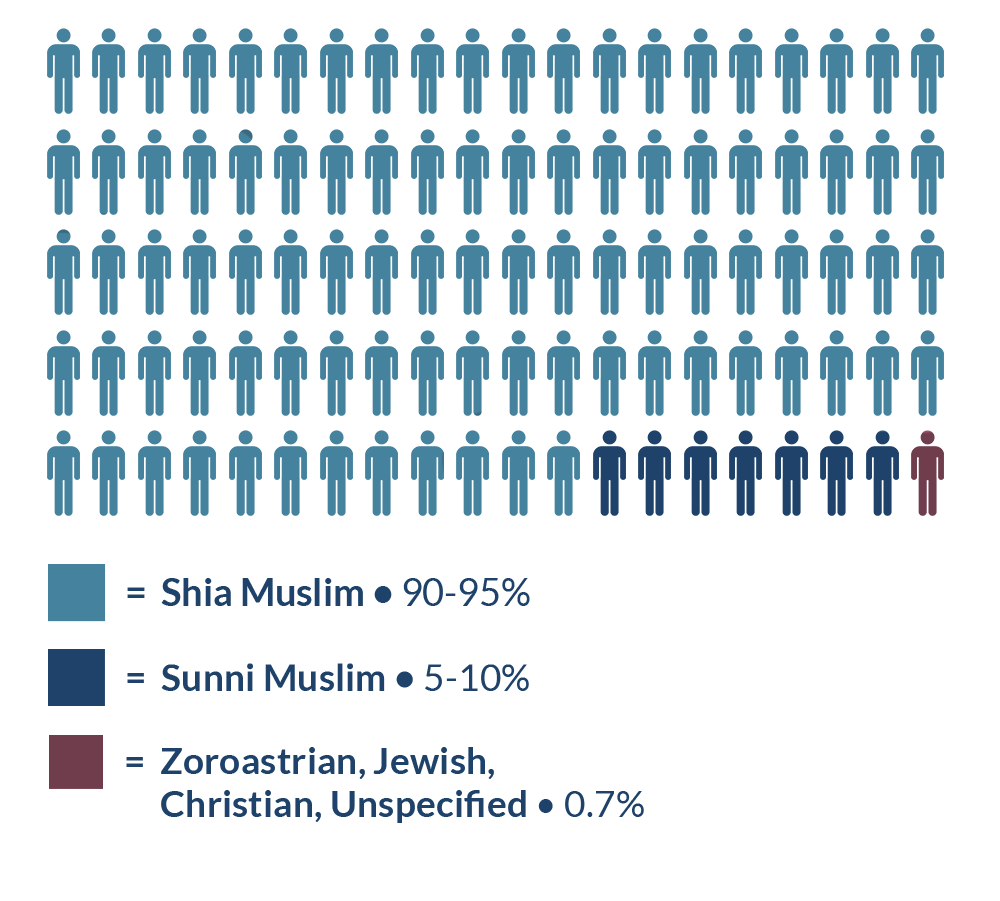 Christian Population (Open Doors): 800,000
Iran's Constitution permits Zoroastrians, Jews, and Christians protection to worship freely and to form religious societies, though proselytizing is strictly prohibited. Five parliamentary seats are reserved for these groups. However, Iran does not recognize the Baha'is as a protected religious minority, and the government discriminates against its citizens on the basis of religion or belief, as all laws and regulations are based on unique Shi'a Islamic criteria.
Since Iran's 1979 revolution, many members of minority religious communities have fled in fear of persecution. Although Christians are allowed to practice their faith, they face arduous government regulations and harassment, which includes the monitoring of all Christian religious practice. Christians who attend liturgy are required to register with the authorities. These same authorities reportedly forbid Muslim converts to Christianity from entering Armenian or Assyrian churches.
The Baha'i community, the largest non-Muslim religious minority in Iran, has long been subject to particularly severe religious freedom violations. The government views Baha'is as heretics, and consequently they face repression on the grounds of apostasy. Since 1979, authorities have killed or executed more than 200 Baha'i leaders, and more than 10,000 have been dismissed from government and university jobs.
Christians in Iran, the majority who are ethnic Armenians living in Tehran and Isfahan, have also faced discrimination and harassment. Iranian authorities have raided church services, threatened church members, and arbitrarily arrested hundreds of Christians throughout the country.
Israel and Palestinian Territories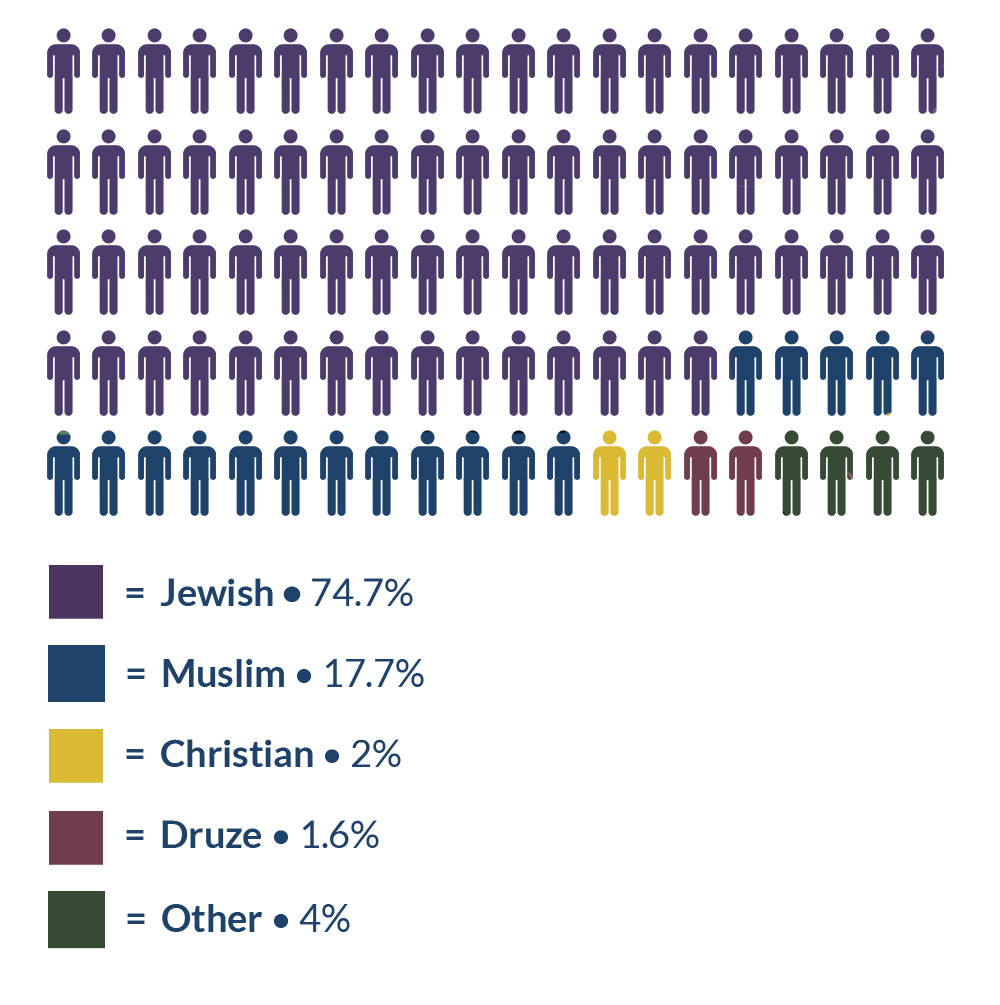 Christian Population of Israel (Knesset Research and Information Center): 170,000
Christian Population of the Palestinian Territories (Open Doors): 46,000
Christians are still living and worshiping in the cradle of Christianity after two thousand years and are the descendants of those who first believed in Jesus Christ. They live in Jerusalem, Bethlehem, Nazareth, and other places in Israel and the Palestinian Territories. They include approximately 127,000 Palestinian Christians (mostly adherents of the Greek Orthodox Church of Jerusalem as well as Melkite and Latin Catholics, with small numbers of Maronites, Arameans, Copts and Protestants), about 25,000 Orthodox Christians from the former Soviet Union (Russian Orthodox) and smaller minorities of Assyrians and Armenians. The majority of Christians in the Holy Land belong to the Greek Orthodox, Greek Catholic and Roman Catholic churches. Israel and the Palestinian Territories are home to most of the holiest sites in Christianity, including the Church of the Nativity in Bethlehem, the birthplace of Jesus and the Church of the Holy Sepulchre in Jerusalem, where Jesus was crucified and resurrected.
Today, Christians make up around 1 percent of the predominantly Muslim population of the Palestinian territories. In 1920, they were a tenth of the population of Palestine. The Bethlehem Governorate is home to the highest percentage of Christians in Palestine, and in Bethlehem alone the Christian population has slumped to 7,500 from 20,000 in 1995.
In order to protect and preserve Christianity in Israel and the Palestinian Territories, the U.S. government, at the highest levels, should continue to emphasize the importance of their presence in Israel, the Palestinian Territories, and the region.
Jordan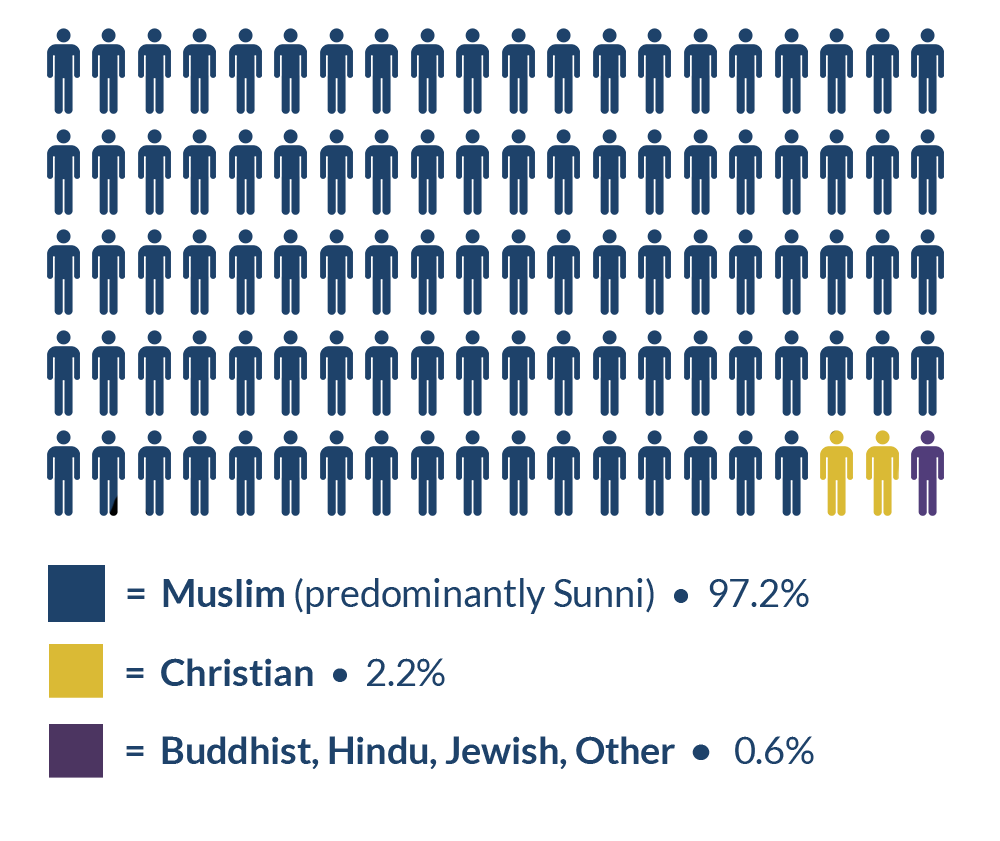 Christian Population (Open Doors): 130,000
The Hashemite Kingdom of Jordan forms part of the Holy Land and was established in 1946 after the British withdrew their control from the area in the wake of World War II.
Jordan's monarch, King Abdullah II, has been an outspoken advocate for Christians in the Middle East. However, Christian communities are not free from danger and persecution in Jordan. Jordan's state religion is Islam, and Shari'a law has primacy for Muslims in matters of personal or family status. This means that in legal cases wherein one party is Muslim and the other Christian, the case is decided according to Shari'a, which can result in discrimination against Christians. In addition, extremism has risen in recent years in Jordan: More than 2,000 Jordanians have joined extremist groups, and the nation has suffered terrorist attacks. While the attacks do not directly target Christians, the rise in terrorism and the growing number of violent extremists from Jordan highlight disturbing trends that may threaten the Christian presence in Jordan.
Egypt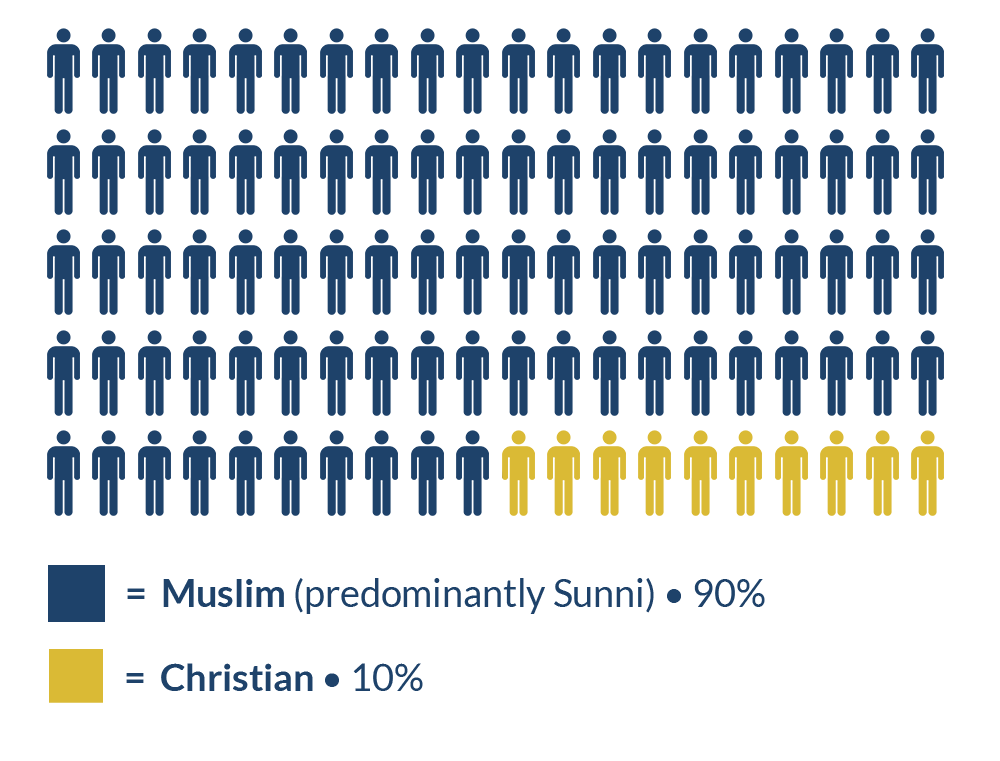 Christian Population (Open Doors): 9,937,600
The Copts of Egypt constitute roughly ten percent of Egypt's population of 92 million—the largest non-Muslim community in the Middle East as well as one of the oldest established Christian communities, tracing its origins to St. Mark in the first century. Egypt's Christian community has faced discrimination for decades, and worsening persecution in recent years.
While the Egyptian Constitution states that freedom of belief is "absolute," many laws continue to actively discriminate against Christians and Islam is the state religion.
Christians continue to be directly targeted by ISIS, Al Qaeda, and its affiliates. They do not feel protected in the Sinai region of Egypt, where dozens were recently killed and hundreds were forced to flee from the violence. Violent attacks against Copts, particularly in Upper Egypt, have been condemned by the Egyptian government, but little has been done to protect people or places of worship. Furthermore, perpetrators of these sectarian crimes are rarely punished. Instead, local authorities conduct "customary reconciliation" sessions between Muslims and Christians. These reconciliation sessions do not result in punishment and Christians are often dissuaded from taking legal action.
Egypt has been the largest annual recipient of foreign and military aid from U.S. taxpayers for decades. The United States has given billions of dollars in foreign and military assistance to the government of Egypt—approximately 6 billion dollars between 2011 to 2015—and should be ensuring that Christians in Egypt can live free of persecution and discrimination.
In order to protect and preserve Christianity in Egypt, the U.S. government, at the highest levels, should continue to emphasize the importance of their presence in Egypt and in the region.
Lebanon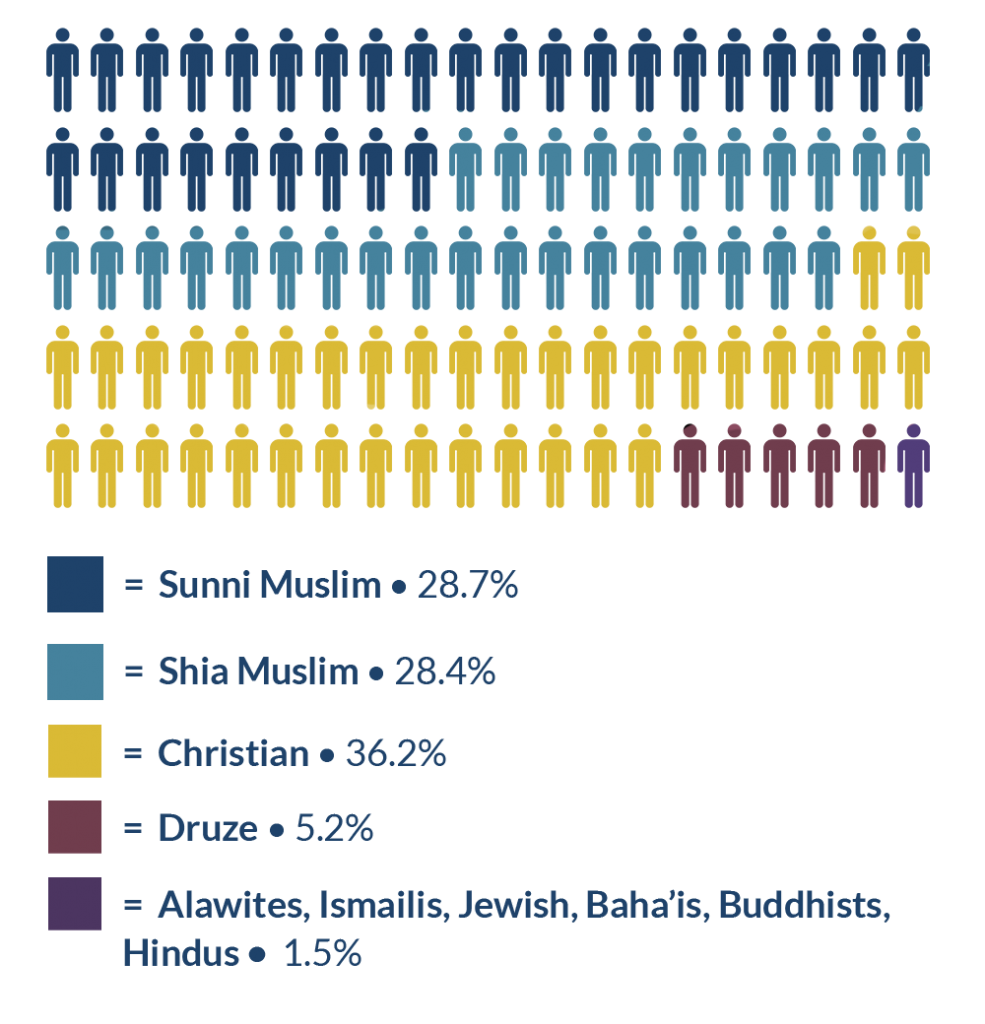 Fact: Lebanon is the most religiously diverse country in the Middle East and has the largest percentage of Christians of any country in the Middle East.
Estimates suggest that more than one-third of Lebanon's population is Christian – Maronite, Greek Orthodox, Melkite, Evangelical, Roman Catholic, Syriac Orthodox, Syriac Catholic, Assyrian and Armenian. Half of Lebanon's members of Parliament are Christian.
Lebanon also has a unique parliamentary democracy that reflects its rich ethnic and religious diversity. Since the end of Syria's occupation of Lebanon in 2005, Lebanon has emerged as a beacon of pluralism in the Middle East, a nation where Christians, Muslims, Druze, and others generally live in peace, despite internal and external threats. For instance, Lebanon's constitution mandates that that the president of Lebanon must be a Maronite Christian, the prime minister must be a Sunni Muslim and the Speaker of Parliament must be a Shia Muslim.
Lebanon has accomplished a smooth transition to a stable coalition government through a democratic election, and protected the multi-party system, and worked to maintain a fragile infrastructure system to support the growing population. Lebanon has the highest percentage of Christians in the Middle East and is a unique multi-confessional society and a model of pluralism in the region. Lebanon suffered from a brutal civil war in the 1980s that tore the country apart along religious lines and risks descending into sectarian chaos as a result of the Syrian refugee crisis, which would be to the detriment of U.S. interests in the Middle East.
Syria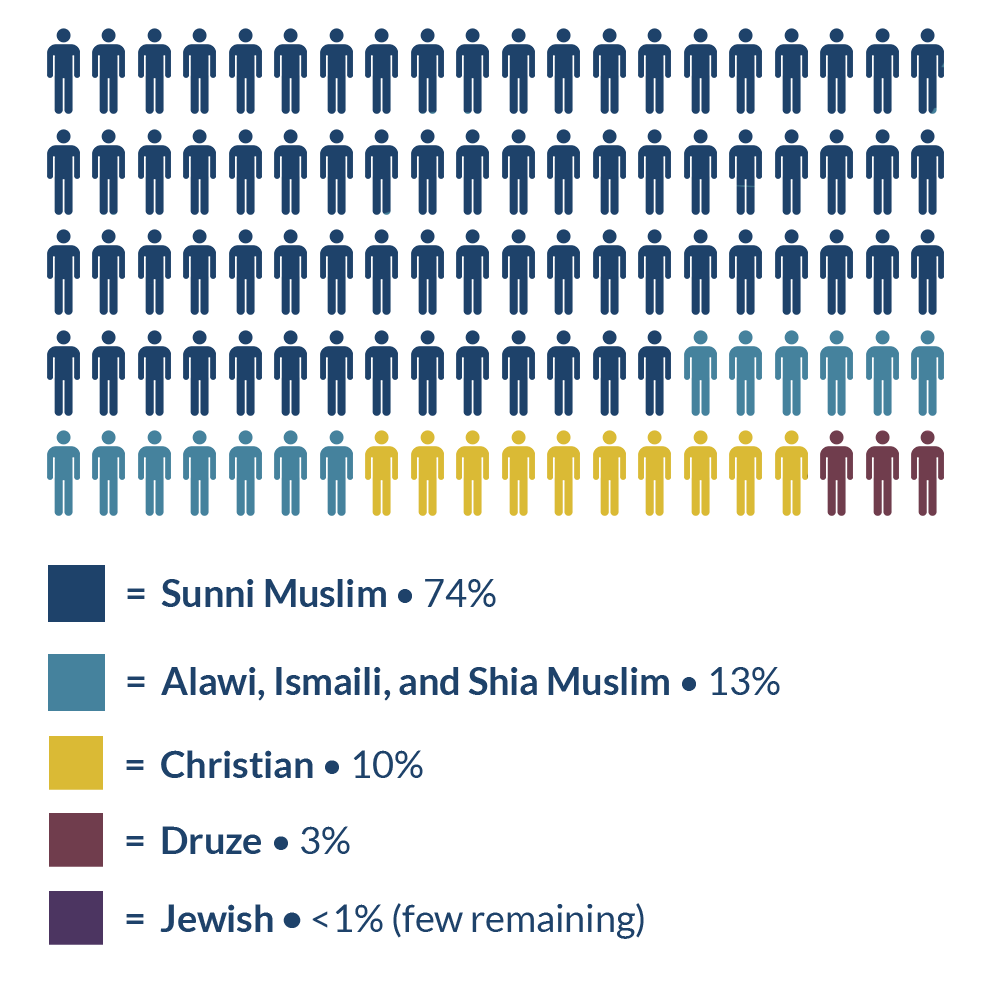 Christian Population (Open Doors): 814,000
Christians have lived in Syria since the first century and its Christians – Greek Orthodox, Melkite, Syriac Orthodox, Chaldean, Assyrian Church of the East, Evangelical, and others – numbered more than 10 percent of the population prior to Syria's civil war.
The majority of Syria's Christians live in territory governed by the Syrian Arab Republic. Some Christians, particularly those in northeastern Syria, have joined defense forces supported by the U.S.-led coalition to fight ISIS and other violent extremists. Christians there have also played a role in the creation of self-governing democratic zones that promote equal rights.
As the fighting begins to wind down and the country begins to rebuild itself, IDC continues to advocate for the safe return of Syrian refugees and displaced persons as an important step to create stability.
In order to protect and preserve the ancient Christian community in Syria, the U.S. government, at the highest levels, should continue to emphasize the importance of their presence in Syria and in the region.
Iraq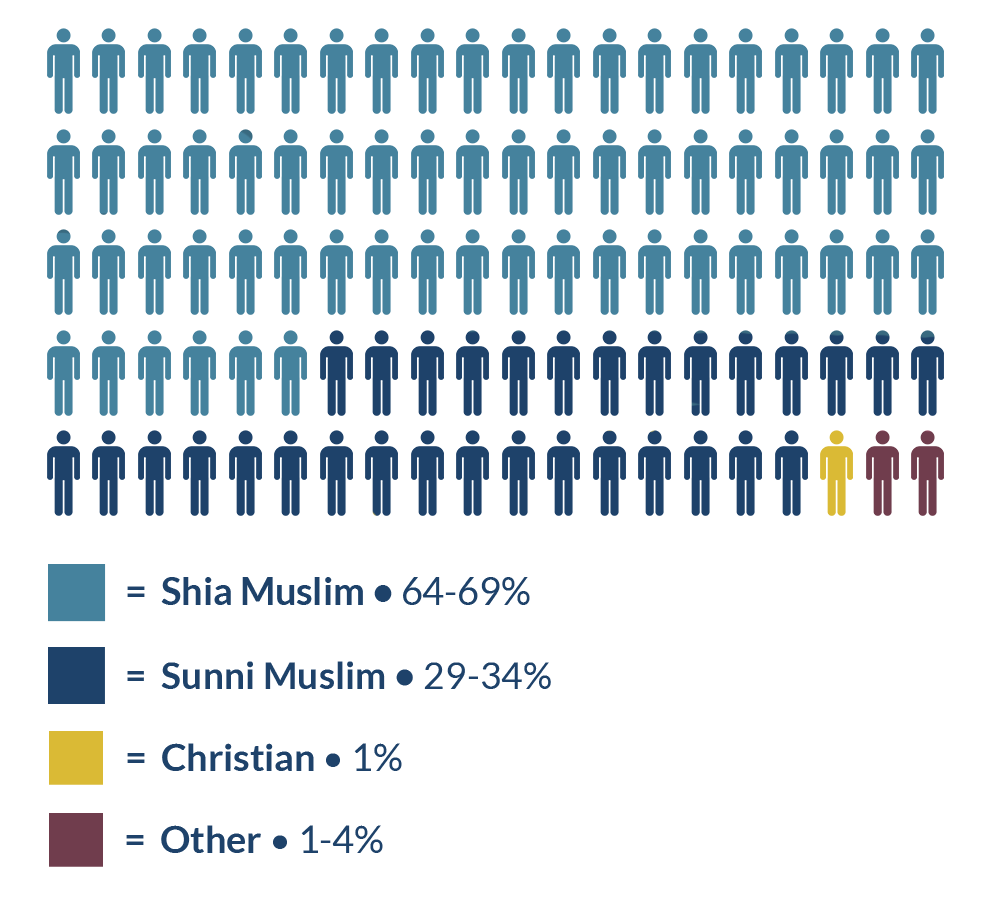 Christian Population (Open Doors): 225,000
Iraq is home to one of the oldest Christian communities in the world. Iraq's Christians are ethnically and religiously diverse. Denominations include Armenian Catholics and Orthodox, members of the Assyrian Church of the East, Assyrian Orthodox, Chaldean Catholics, Evangelicals, Protestants, and Syriac Catholics and Orthodox; they speak different dialects of Aramaic and Armenian, practice unique Christian traditions, and possess distinct ethnic and cultural identities.
In order to protect and preserve Iraq's ancient ethnic and religious minority communities, the U.S. government must emphasize the importance of their presence in Iraqi civil society as a whole and in the Nineveh Plain region, in particular.
ISIS has been pushed back and much of the territory previously occupied by ISIS has been liberated, but the genocide continues. Many of the indigenous religious and ethnic communities targeted by ISIS are still unable to return to their homes – and many, nearly three years later, are still not receiving U.S. aid. Before peace and reconciliation efforts can begin, the victims of genocide must be able to return safely to their homes.
The United States and the international community must take swift action to secure, stabilize, and economically revitalize these communities, as part of a larger effort to stabilize Iraq; to identify and punish those who aided and abetted ISIS in its campaign of genocide and terror; and to appoint to key positions qualified persons who will pursue these and related humanitarian and national security priorities.
Turkey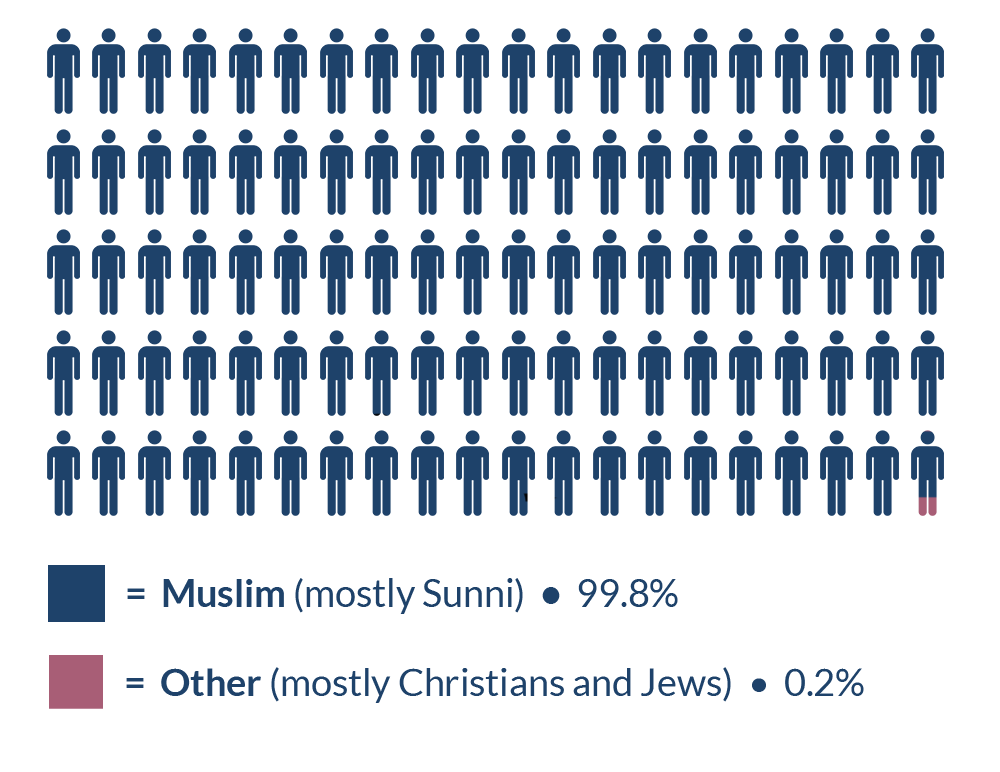 Christian Population (Open Doors): 194,000
Turkey's Christian history dates to the first century. The city of Antioch was the place where followers of Jesus were called "Christians" for the first time, as well as being the site of one of the earliest and oldest surviving churches, established by the apostle Peter. Much of present-day Turkey, originally part of the Byzantine Empire, was once Christian. Today, Christians number approximately 250,000 – less than 0 .4 percent of Turkey's population.
The Ottoman Turkish government oversaw the first genocide of the last century, in which 1.5 million Armenians, Assyrians, and Greeks were killed through systematic, coordinated government action. (See Armenia and the Armenian Genocide, herein). Turkey has refused to recognize this genocide and finances lobbying efforts around the world, including in the United States, to pressure governments to not recognize the genocide.
Under the 1982 constitution, the state has pervasive control over religion and denies full legal status to all religious communities. Religious communities in Turkey face restrictions on their rights to own and maintain property, to train clergy, and to offer religious education. Minor successes in expanding property rights and freedom for religious dress have been achieved under the new constitution but have been subsequently eroded. These setbacks suggest that the lack of progress on longstanding religious restrictions is due to an absence of political and cultural will, rather than merely structural impediments.
The Turkish government continues to interfere in the administration of the Greek Orthodox Church's Holy Synod as well as with the Armenian Patriarchate, including the selection of leadership. While the government has continued to train Sunni Muslim clerics and fund the construction of Sunni mosques, it has restricted the land use and administration of Christian communities. Christians are not allowed to train clergy in the country. The Greek Orthodox Theological School of Halki Seminary has been closed since 1971.
Many Christian properties that have been seized by the Turkish government have yet to be returned to Christian communities, despite the government's 2011 decree, which established a process for the return of, or compensation for, properties.
Armenia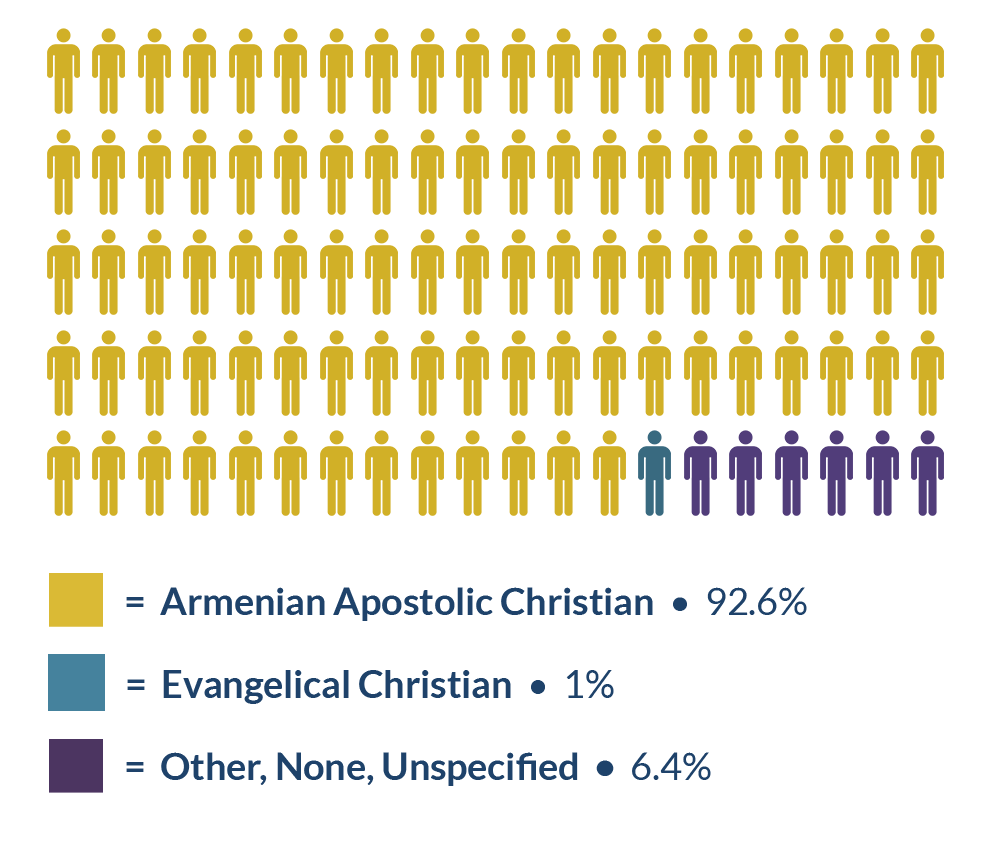 Fact: According to CBS News, Armenia's 97.9% Christian population makes it the fifth most heavily Christian country on earth.
Armenia was the first nation to adopt Christianity as its state religion in the early fourth century. The persecution of Armenians over the centuries has stemmed in large part from their refusal to renounce their apostolic faith. Armenian nationals number approximately three million. However, millions of Armenians live elsewhere in the world, including perhaps as many as a million in Egypt, Iran, Iraq, Lebanon, and Syria.
The Armenian Genocide – a known case of genocide, documented in the U.S. archives and through an overwhelming body of first-hand, governmental, and diplomatic evidence – remains unacknowledged by Turkey and unpunished by the international community. Denial of this genocide set the stage for subsequent atrocities, including genocide and other crimes that have taken place recently. Turkey's campaign to escape responsibility for this atrocity constitutes an ongoing crime against the victims, their descendants, and humanity. Turkey also represents a threat to Armenia, a predominantly Christian nation, which has welcomed victims fleeing recent violence throughout the region.
Prior to the Armenian Genocide of 1915, the territory of modern-day Turkey was home to a large, ancient, and indigenous Christian population, comprised of millions of Armenians, Greeks, Pontians, Assyrians, Chaldeans, Syriacs, and other Christian peoples. Today, Christians account for less than 0.1% of Turkey's population.
The Ottoman Empire killed over 1,500,000 Armenians, Greeks, Assyrian-Chaldean-Syriacs and others, exiled the Armenians from their historic homeland, and deported hundreds of thousands of its other Christian citizens. Many of the victims were killed expressly because they would not renounce their Christian faith.
The media attention resulted in a mass outpouring of U.S. humanitarian assistance through the Congressionally-mandated Near East Relief (now Near East Foundation) that collected donations from over 40 individual state committees throughout the country.
There is a growing international consensus that the Turkish government committed genocide against Armenians, Greeks and Assyrian-Chaldean-Syriacs, beginning in 1915. The genocide has been recognized by the European Parliament, the governments of twenty-nine countries including the United States.
Kuwait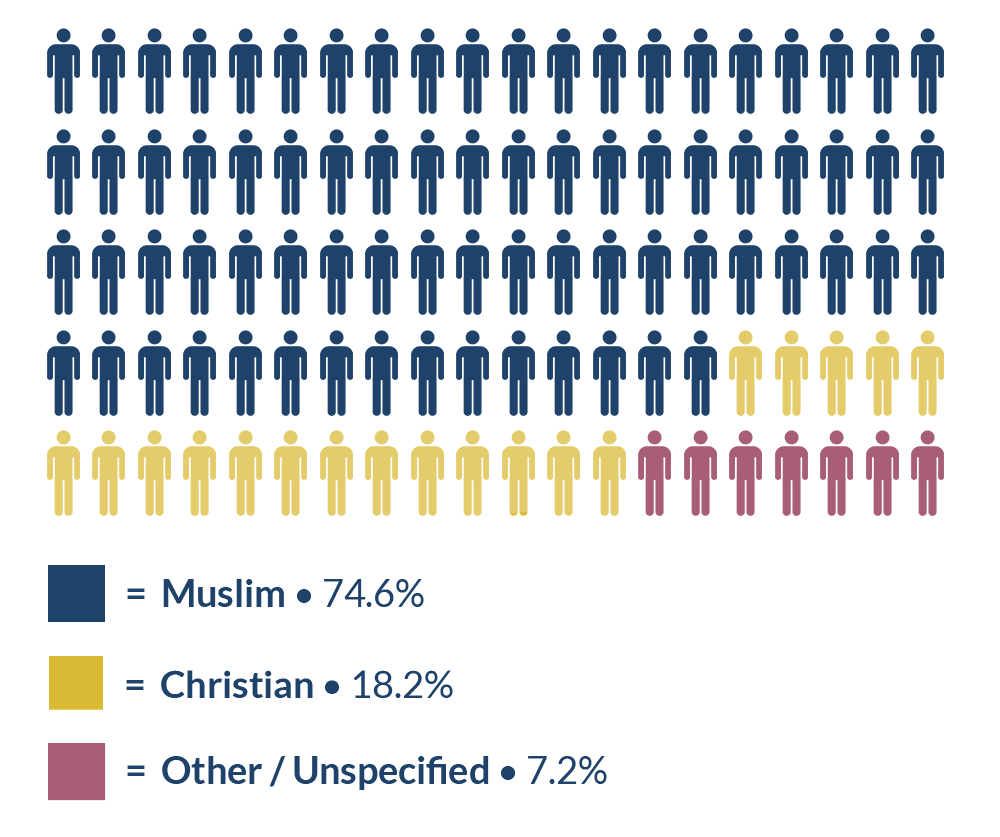 Christian Population (Open Doors): 436,000
Open Doors estimates Kuwait's Christian population as 436,000 while ranking the country as the forty-third most oppressive country for Christians in the world. However, Kuwait is the only Gulf Cooperation Council (GCC) country other than Bahrain to have a native Christian population with citizenship.
Amongst the expatriate Christian population, there is a shortage of churches, and only reform in policies relating to public gathering spaces will resolve this issue. "Apostates" (those who leave Islam) can have their marriages immediately annulled if the change in faith renders the marriage invalid according to traditional Islamic law (where a Muslim man may marry a Christian or Jewish woman, but a Muslim woman may only marry a Muslim man).
Kuwait recognizes multiple Christian denominations but does not recognize non-Abrahamic religions publicly.
Kuwait has a "Moderate" score from Pew's Social Hostilities Index and a "High" score from Pew's Government Restrictions Index.
Bahrain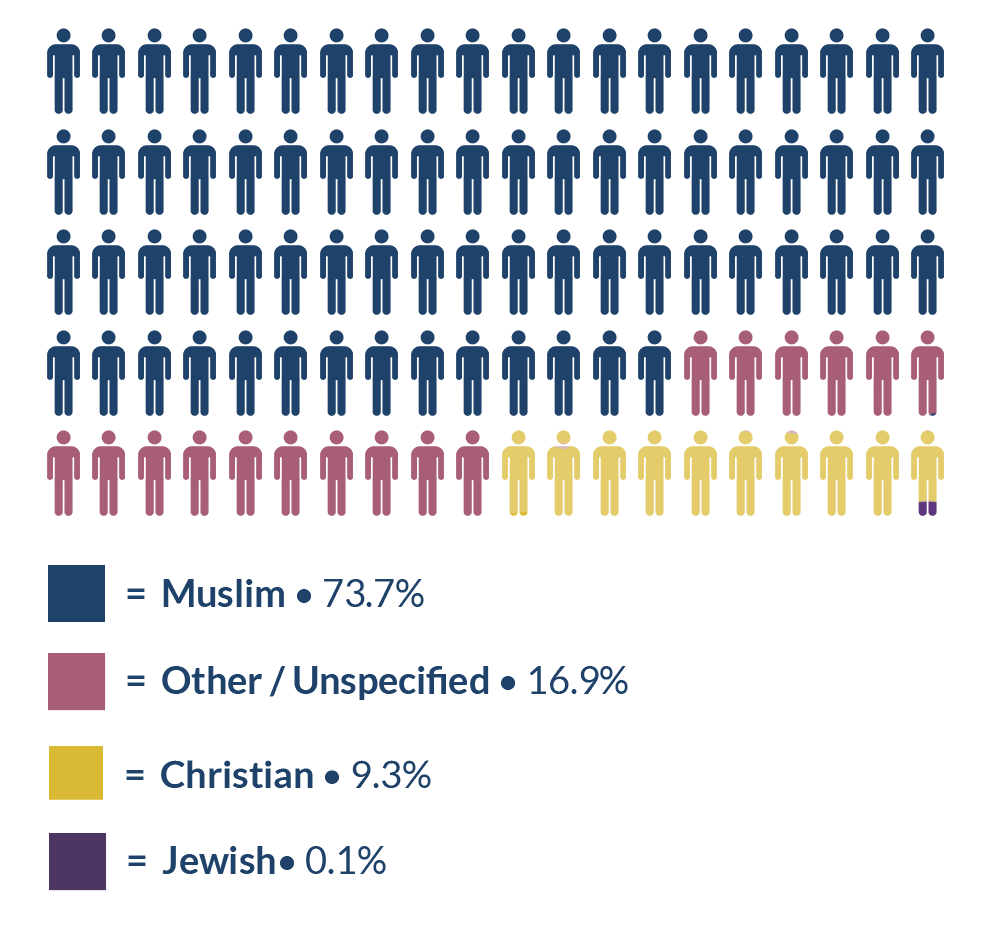 Christian Population (Open Doors): 188,000
While a Sunni monarch rules Bahrain, it is a Shia-majority country.
USCIRF gave Bahrain a "Tier 2" ranking ("High Level" of concern) for its discrimination and prejudice toward Shias. Pew ranks Bahrain in the "High" range for government restrictions and the "Moderate" range for social hostilities.
While Iran has tried to stir up opposition to the state, the government has used this as a pretense for discrimination against Shia Bahrainis.
Minorities, including non-Abrahamic minorities such as Buddhists and Hindus, can generally worship free from state interference. The government also just launched the King Hamad Center for Peaceful Coexistence, which is designed to promote religious tolerance and fight religious extremism.
On another positive note, Bahrain is one of three Gulf countries (the others being Oman and the United Arab Emirates) to receive a "Low" ranking from Pew's Social Hostilities Index.
Qatar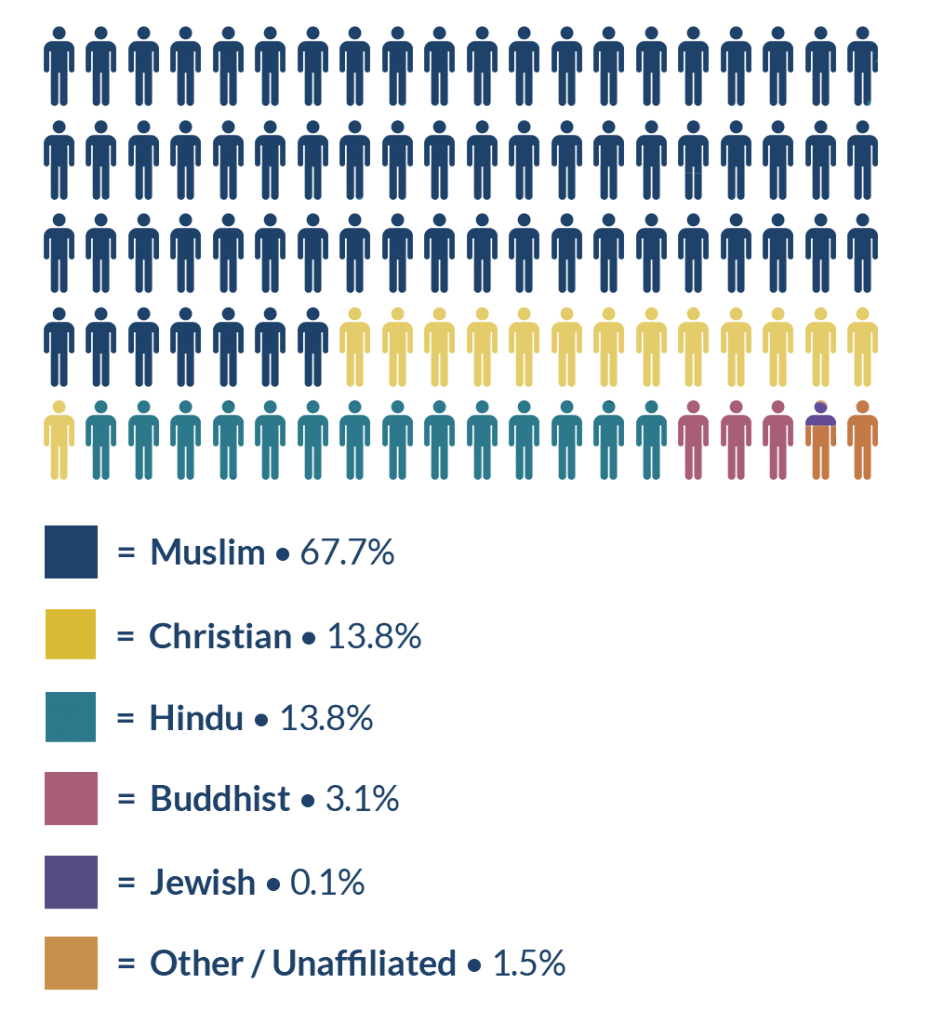 Christian Population (Open Doors): 220,000
Pew ranks Qatar in the "High" range for both the Government Restrictions Index and Social Hostilities Index. Open Doors ranks it as the thirty-eighth-most oppressive country in the world for Christians. The government only recognizes certain Christian communities and contains all churches in the Mesaimeer Religious Complex, a special zoned area outside Doha. Like the rest of the country, converts to Christianity are under extraordinary social pressure and often do not disclose their change of religious affiliation. The only two registered religions to have their own places of worship are Christians and Muslims.
People registered as Muslims may receive sharia punishments, such as flogging, for committing acts sinful in Islamic law.
The State Department notes that the Anti-Defamation League has raised the alarm of government-supported preachers and the government-owned Al Jazeera television channel for spreading anti-Semitic messages. Over 18,000 people did attend a Christian concert in Doha, and the Maronite patriarch laid the cornerstone of a church on government-owned land. The emir also donated funds for the construction of a Maronite parish in Lebanon.
United Arab Emirates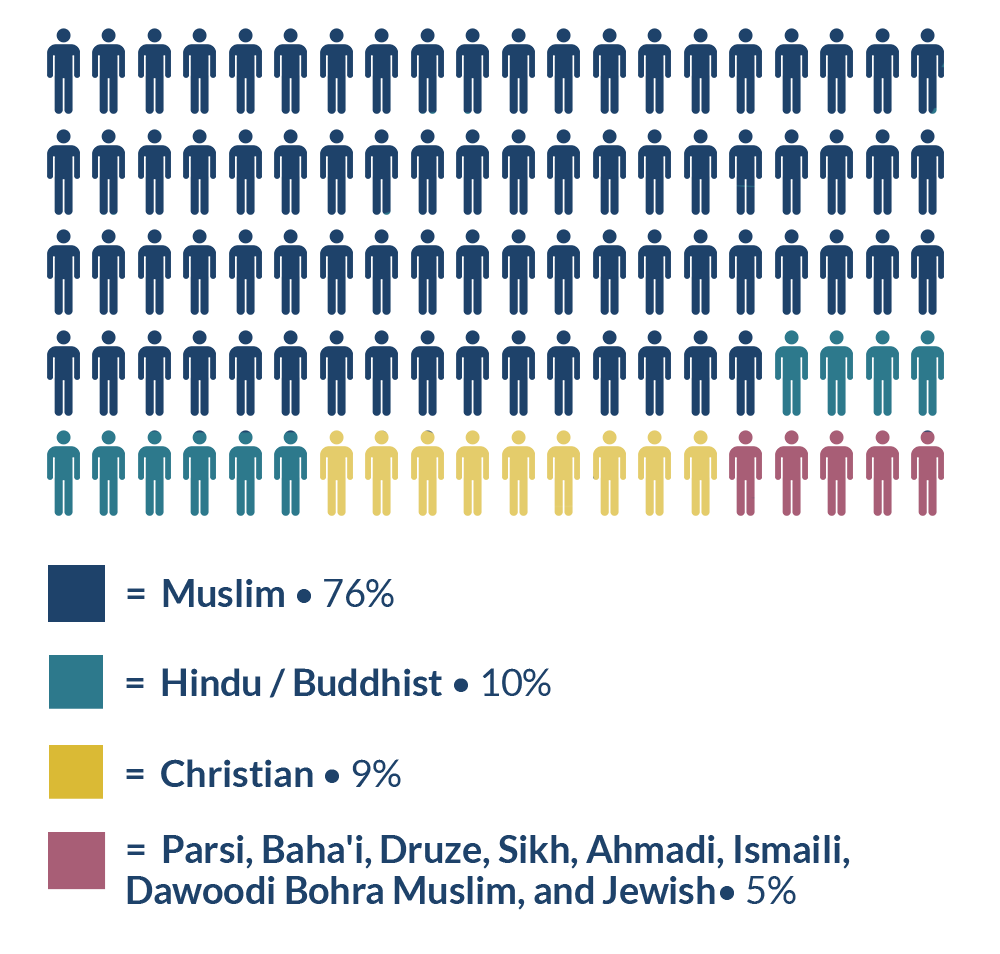 Christian Population (Open Doors): 1,226,000
The United Arab Emirates deemed 2019 the "Year of Tolerance," and the country has made meaningful, symbolic actions to improve Christian-Muslim relations, most notably by hosting Pope Francis for an official apostolic visit earlier this year.
As a result of a signed declaration between the pope and the grand imam of al-Azhar, the UAE established a higher committee to promote peaceful coexistence between Christians and Muslims.
Despite these improvements, Open Doors ranks the UAE as the forty-fifth-most repressive country in the world for Christians to reside in. For example, the death penalty remains the on-the-books punishment for converting from Islam, though it has not been used. For the expatriate community, there is a large shortage of space for churches and Christian gatherings.
Oman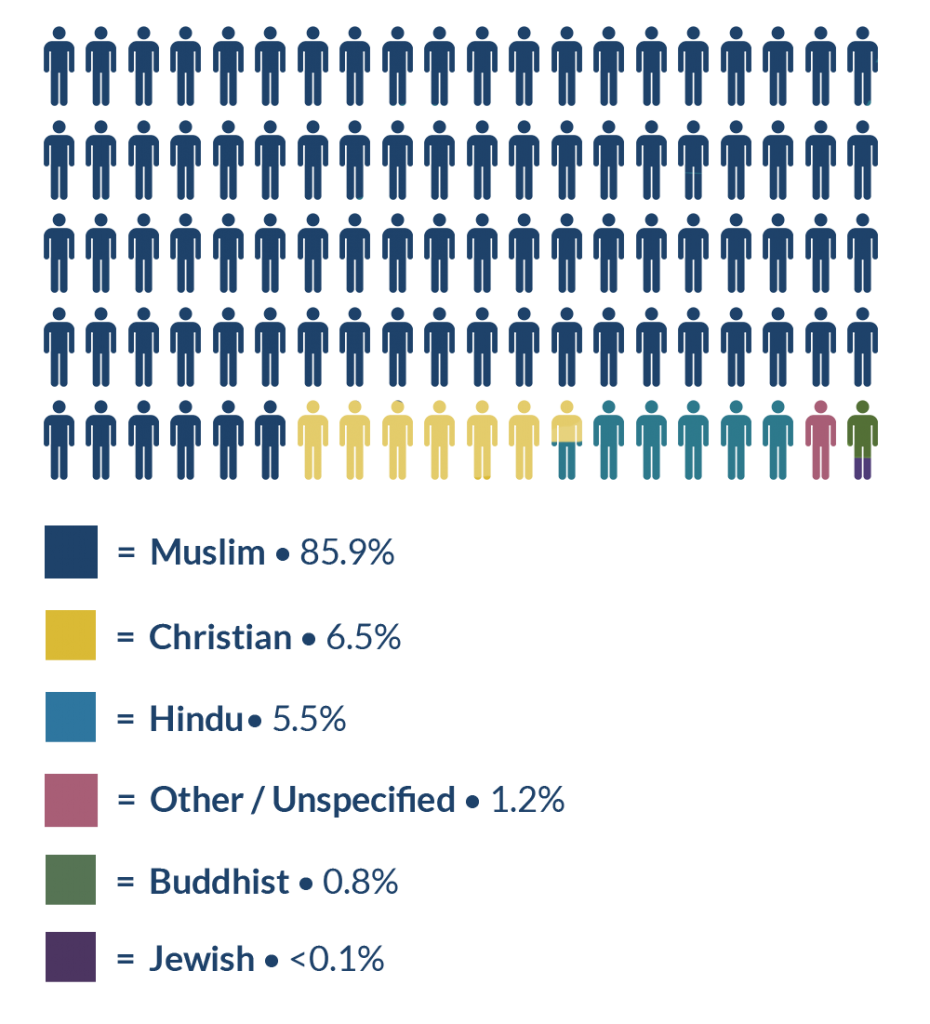 Christian Population (Open Doors): 198,000
Oman currently sponsors a travelling exhibit called "Tolerance, Understanding, Coexistence: Oman's Message of Islam," and certainly markets itself as the most religiously tolerant country in the Gulf.
What makes Oman unique is the presence of Ibadi Muslims, who represent about 45 percent of the population (Sunnis represent 45 percent and Shias 5 percent) and predate the Sunni-Shia division. Also worth noting is the naturalized non-Muslim population of Christians, Buddhists, Hindus, and others who make up about 5 percent of the citizenry.
However, Open Doors describes Oman as "peaceful, but concerned," and the State Department IRF Report warns that, while Oman has no laws against changing one's religion, the country very recently increased penalties for blasphemy and outlawed groups promoting faiths other than Islam.
While the expatriate community worships in peace, their worship is limited to specific compounds, which are becoming overcrowded since several national and ethnic groups use them.
While Oman has a "Low" ranking from Pew's Social Hostilities Index, it remains a "High" in the Government Restrictions Index.
Yemen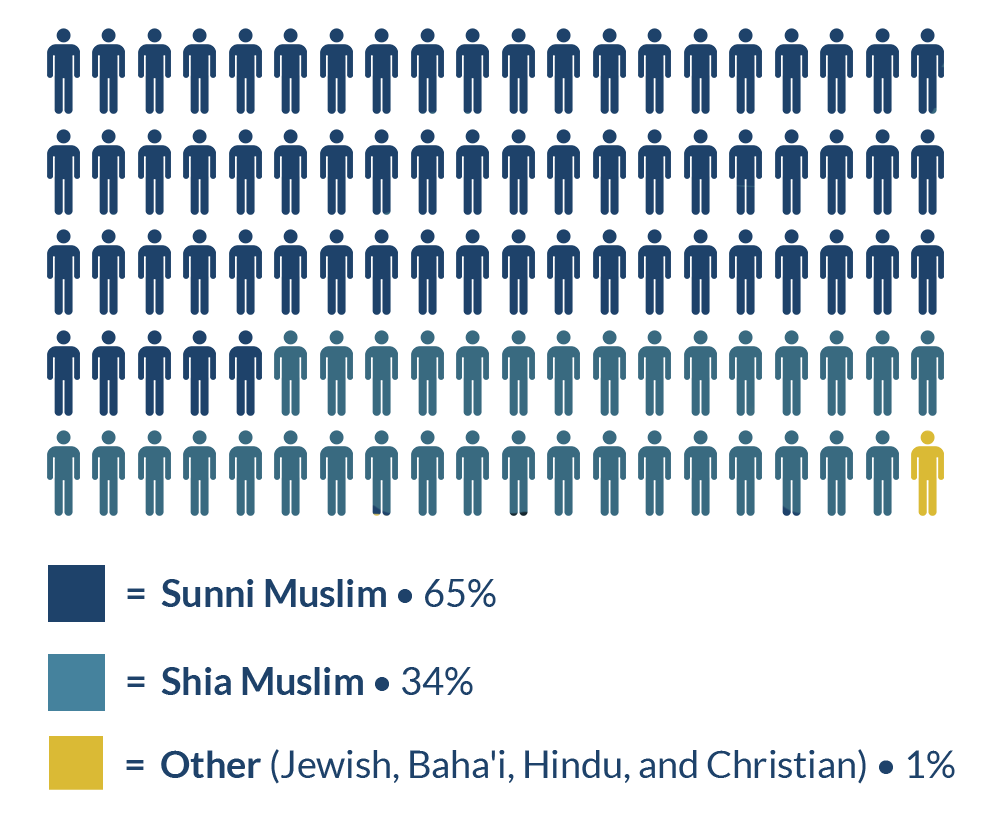 Christian Population (Open Doors): A few thousand
Yemen's current civil war between the internationally recognized government, heavily backed by Saudi Arabia (with support from a number of allies, such as the United States), and the Iranian-backed Houthi rebels, has witnessed the exodus of an ancient Jewish community whose presence in Yemen may now only remain as history.
Although the conflict seems to make ranking Yemen impossible in USCRIF's index, Open Doors ranked it as the eighth-most oppressive country for Christians in the world.
The most scarring incident of Christian persecution was a terrorist attack on a retirement home managed by the Missionaries of Charity (the order founded by St. Theresa of Calcutta), which saw the massacre of 16 people in 2016.
2019 witnessed the highly concerning arrest of 22 Baha'is and the charge levied against them by a Houthi court of apostasy. Houthi leader Abdul-Malik al-Houthi has publically called Baha'is infidels and satanic.
The conflict in Yemen is one of the most concerning humanitarian situations in the world, with the Armed Conflict Location & Event Data Project (ACLED) estimating that over 67,600 people have died from causes relating to the conflict as of February of this year.
Saudi Arabia
Religious Demography (CIA World Factbook): Unclear
Christian Population (Open Doors): 1,419,000
Despite the fact that foreigners comprise over 30 percent of Saudi Arabia's population, the kingdom does not report on their religious composition. The kingdom earned a "Tier 1" ranking, the highest level of concern, from the United States Commission on International Religious Freedom (USCIRF). This is hardly surprising given the country traditionally denies non-Muslims the right of public worship. The kingdom also harshly oppresses its Shia Muslim minority, who compose 10-15 percent of the population, and barbarically beheaded 39 Shias in a mass execution in April 2019.
Saudi Arabia ranks in the "High" category in Pew Research Center's Social Hostilities Index and "Very High" in Pew's Government Restrictions Index.
Open Doors lists the kingdom as the fifteenth-most oppressive environment for Christians in the world.